Distances (ES08): Tossa de Mar to Lloret 7 miles, to Blanes 4 miles, to Malgrat de Mar 3 miles, to Santa Susanna 3 miles, to Pineda/Calella 3 miles and to Barcelona 35 miles.

North of Barcelona is famous as a holiday area with a chain of popular sea side resorts. Especially in the area between Calella and Tossa de Mar you will find wide, sandy beaches and lots of entertainment. Each resort has its own characteristics and attractions: Calella with its bustling centre, the beach of Santa Susanna, the charming atmosphere of Malgrat, the picturesque boulevard with the fisherman's wharf in Blanes, the exciting attractions of Lloret and the breath taking cliffs of the Costa Brava around Tossa de Mar. Wherever you stay, it is for sure that you won't have enough time to explore all the attractions in this area.
Who doesn't know the great attractions of the beautiful city of Barcelona, a unique city. You will need more than a day to explore the centre. Nevertheless you can catch the spirit if you follow the following programme: the Sagrada Familia one of the landmarks of Barcelona, the cathedral by Gaudi with a bizarre architecture, Plaza de Cataluña and the Ramblas the heart of the city full of shops, restaurants and terraces, the gothic quarter with its narrow, picturesque alleys, Mount Juic the mountain right in the centre with the Olympic facilities, castle and attraction park plus of course a magnificent view over the city and the sea, Plaza España the square with the famous fountains and beautiful palaces. And of course you should visit the stadium of F.C. Barcelona because a visit to this impressive Nou Camp Stadium is the climax for the real football fan. More information: www.bcn.cat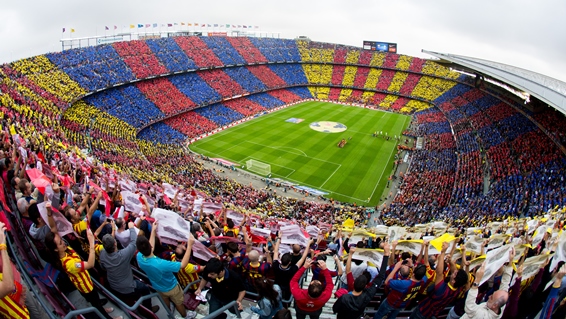 FC Barcelona. is one of the greatest European football clubs. No wonder, since football is the most popular sport in Catalonia. But for Catalans 'Barça' is more than just a club. On one hand there is the impressive track records of famous players such as Kubala, Luis Suarez, Maradonna, Johan Cruijff, Romario and Ronaldo. On the other hand there is its alignment with Catalonian history. During the dictatorship of Franco, when all show of Catalanism were forbidden, Barça became a kind of a national symbol.
More information: www.fcbarcelona.com
Leisure activities:
- Boat trip. Cruise and admire the coast line of the Costa Brava and the Costa Maresma between Tossa de Mar and Calella.
- The Botanic Gardens of Blanes. The Botanic Gardens of Blanes, founded in the beginning of the 20th century, is one of the most beautiful Botanic Gardens of Europe with an area of 16 hectares. A stroll through the gardens takes you to the cliffs of the coast with breathtaking views of the Costa Brava.